Healing architecture – how building planning promotes well-being and healing
Hospitals, care homes and nursing homes of course have to be clean, hygienic and even germ-free in some areas. They also need to comply with accessibility and fire protection regulations. This means the environment can often appear sterile, functional and not particularly welcoming. At the same time, such buildings need to constantly create an atmosphere which promotes the well-being and recovery of patients and residents, as well as staff and visitors. Combining these different needs makes building planning complex.
Hygiene regulations versus feel-good factor – incompatible demands?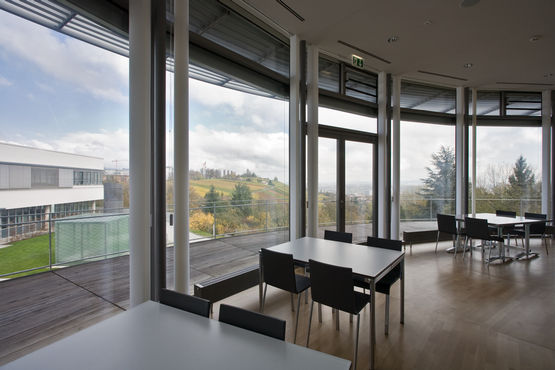 Robert Bosch Hospital, Stuttgart © GEZE
On one hand, there are hygiene regulations and measures considered vital in ensuring appropriate care for patients and visitors. On the other hand, the environment needs to be as comfortable as possible, but also ensure openness, security, safety and relaxation. Healing architecture is therefore about bringing together architecture and health, with a focus on some key questions: How can architecture contribute to healing? To what extent does a positive environment contribute to maintaining health? In addition to a lack of signposting, factors such as stress, noise, darkness and poor air have a negative effect on people's well-being, and thus on their recovery. Good signposting, lighting and ventilation are thus crucial factors in achieving a positive result.
One building – a place of experiences for different user groups
A hospital or care home is structured in a manner not unlike a small town. There are family rooms, intensive care wards, restaurants, supporting organisations, parks, and in many cases even a chapel. These many different areas must therefore be a positive experience for all user groups: for patients, residents and visitors alike. Care homes and nursing homes are also workplaces for many skilled workers – and the well-being of the staff has an immediate effect on patients and residents.
What is healing architecture?
The term 'healing architecture' was first coined in the 1980s, and is a specific discipline of the 'healing environment', which investigates the influence of the environment on patients' healing and recovery process. It originates from a study published in 1984 by Roger Ulrich, Professor of Architecture at the Centre for Health Design in Sweden. He showed that patients could be discharged earlier, and needed fewer painkillers post-surgery, if they were in rooms with a view of a park with trees. Later studies demonstrated which other factors are important not only for the well-being of patients and residents, but for employees as well.
Enter rooms contactlessly thanks to automatic doors
Floor infront the operating rooms at Children's Memorial Health © H. Łukasz Janicki / GEZE Polska
Accessibility, areas of retreat and views, for example, play a major role in hospital architecture. However, daylight and a supply of fresh air also have a significant influence on building planning. Modern architecture thus focuses on actively using these free forms of therapy – and installing large window fronts or fanlights, for example. The subject of natural ventilation is also of major significance, requiring door and window solutions to be fully integrated into building planning. Automatic doors guarantee universal and contactless access, resulting in a high level of hygiene – whether in corridors, lounge areas or operating theatres. Window drives, in combination with a building automation system, create automated ventilation which also ensures a contactless and comfortable ambient climate. Automated doors and windows thus comply with fire protection and smoke and heat extraction solution demands, while also supporting the concept of healing architecture.
Maintain better hospital hygiene – thanks to GEZE door and window systems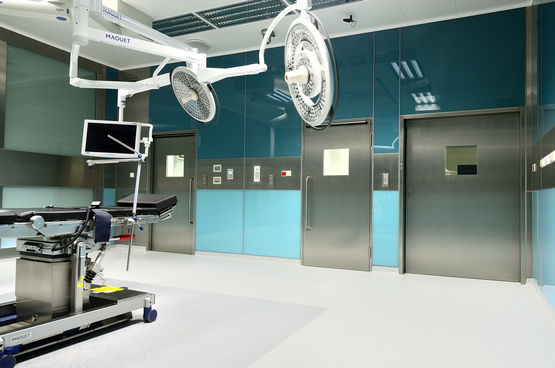 TSA 160 NT Operating room with hermetically sealing doors © H. Łukasz Janicki / GEZE Polska
To ensure that the concept of healing architecture can be implemented successfully, we offer various components and functions geared towards hospital hygiene, accessibility and the contactless operation of windows and doors. It could be to protect the recuperation process for patients, for example by means of the consistent contactless, and therefore germ-free, usage of doors and windows. Another example would be measures which are conducive to healing, health and well-being, such as the supply of fresh air. We have already equipped numerous care homes and healthcare facilities with our door and window solutions.
The entire healthcare sector is undergoing a change: not just nursing homes, hospitals everywhere also need to feel more welcoming and comfortable for patients, staff and visitors, rather than a hospital. Our task here is to actively help shape this changing process with our solutions and products.
Karen Sum, Head of Global Account Management
GEZE supports key healing architecture goals
'Healing architecture' is all about helping patients and residents in the process of self-healing and recovery. To promote healing and well-being, the aims of healing architecture include the following:
Prevent environmental stresses such as noise, e.g. from slamming doors, a lack of privacy and barriers. GEZE offers numerous products and solutions in the field of automatic door systems for accessible entry to buildings and in the field of door damping.

Modular partition wall systems

can also ensure more privacy without losing sight of the design aspect.
Patients and residents should be as close to nature as possible, for example by means of outdoor views, sufficient sunlight and fresh air. Our natural ventilation concepts and our solutions for glass façades are much sought-after in this regard.
Patients and residents should also retain a feeling of control by being offered opportunities to access outside spaces, for instance. Our products for

accessible sliding doors

and

access control

opportunities are paramount in this regard.
More about Healing Architecture (PDF | 724 KB)
Integrated building planning with all stakeholders as a factor for success
Fanlights and all-glass systems create a friendly atmosphere in the waiting room. © GEZE
Uniting the needs of different user groups such as patients, employees, as well as operators etc. is a real balancing act, involving various parties from the different trades involved with implementation. Our integrated approach and the cross-sector usage of our products is a major advantage in the sensitive field of healthcare. Be it accessibility for patients or residents, convenience and security for care staff or protected and germ-free access to clean room areas – our range of products and solutions meet many of these requirements. 'Healing architecture' begins with the experiences of users – and collective opportunities for improvement. All the users of a building thus need to provide their input and feedback to make healing architecture a success in healthcare institutions – and also ensure the operator's financial success. An important aspect of this is integrated building planning involving all the product groups right from the beginning of the project. We'd be delighted to support you in this regard with our expertise in the field of BIM.
Find out more about GEZE BIM Objects
User-oriented and economical – GEZE solutions in the healthcare sector
Not only does this approach increases employee efficiency, it often also reduces patients' length of stay. The latest examples have demonstrated how well-thought out architecture and design concentrated on promoting healing can have measurable effects on the recovery of patients, including shorter hospital stays, fewer hospital infections and less pain. Overall, these measures can improve the financial performance of hospitals and care homes.
Our package of solutions in the healthcare sector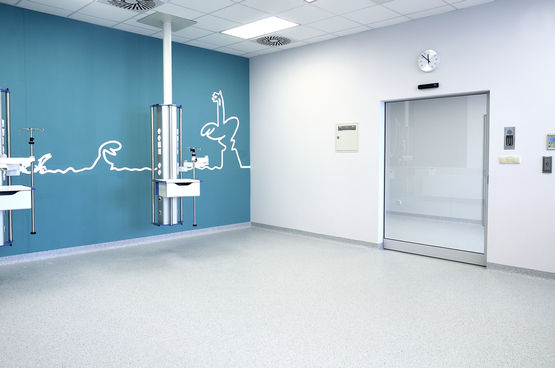 Children's Memorial Health Institute, Warsaw © H. Łukasz Janicki / GEZE Polska
Be it noise reduction, empowering vulnerable users, maintaining hygiene, discreet safety measures or natural ventilation – GEZE understands the fundamental features of an efficient facility with an atmosphere of well-being. The combined, cross-product group usage of our products manifests itself in customised packages for healthcare facilities – from entrance areas, corridors, recreation and waiting rooms to operating theatres, laboratories and administration areas. These packages respond to common challenges with a pre-configured set of system solutions which maximise your benefits – seamlessly integrated into the building automation system via GEZE Cockpit, of course.
A closer look at our products benefits
Combined benefits: improved air quality and reduced energy costs by means of door and window designs for natural ventilation
Noise reduction: silent door drive and damping technology, and automated acoustic insulation for noise reduction
Improved hygiene: contactless room entry and exit
Accessibility: access for people with limited mobility by means of automated door systems
Reduced energy costs: intelligent climate design by means of controlled management of windows and doors, depending on the temperature and access frequency
Maximum safety: reliable smoke and heat extraction with the help of the appropriate designs and systems
Our special GEZE packaging solutions in detail
We are of course happy to adjust our offer to meet your specific demands, customising the packages described below entirely to meet your needs. We can therefore tailor the exemplary solution packages to your need or create individual solutions. We are looking forward to support you.
Door and window solutions for entrance area
Package 1 – specifically for entrance areas
This package primarily focuses on door and window solutions for your building's entrance area. The design of the reception area has a direct impact on the well-being of patients, residents and visitors. That's why this package primarily focuses on door and window solutions for your building's entrance area.
Healing Architecture solutions for the entrance area (PDF | 1.12 MB)
GEZE products in healthcare
Package 2 – specifically for interior and exterior areas
This package contains different solutions for a wide range of uses in interior and exterior areas of your healthcare facility. A large number of users of a building usually also place many different requirements on the building. Therefore, this package contains different solutions for a wide range of uses in interior and exterior areas of your healthcare facility.